Old Movie Style Video Effect
Enabling this effect allows to add some vintage look to a result video. The software adds artifacts to each frame in exported video to emulate old movie look. Use this effect in combination with the Black & White effect to create nice old fashion style to time-lapse video.

Settings
Though software adds random artifacts it is possible to adjust the intensity of two kind of artifcats by using the sliders.
Gain changes amount of "dust" artifacts over frame
Scratches adjust scratches count and length
Speed set how quick scratches disappear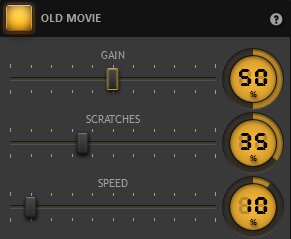 Example
This choice of just a simple illustration of effect applied to the image in the time lapse software.

---
Note: this effect is available in the free version of Time-Lapse Tool.
---
---